Preparation Items : Self-preparation :
1|Distilled water
Included in the accessory box: 2|Funnel, 3|Double head wrench,
4|Torx screwdriver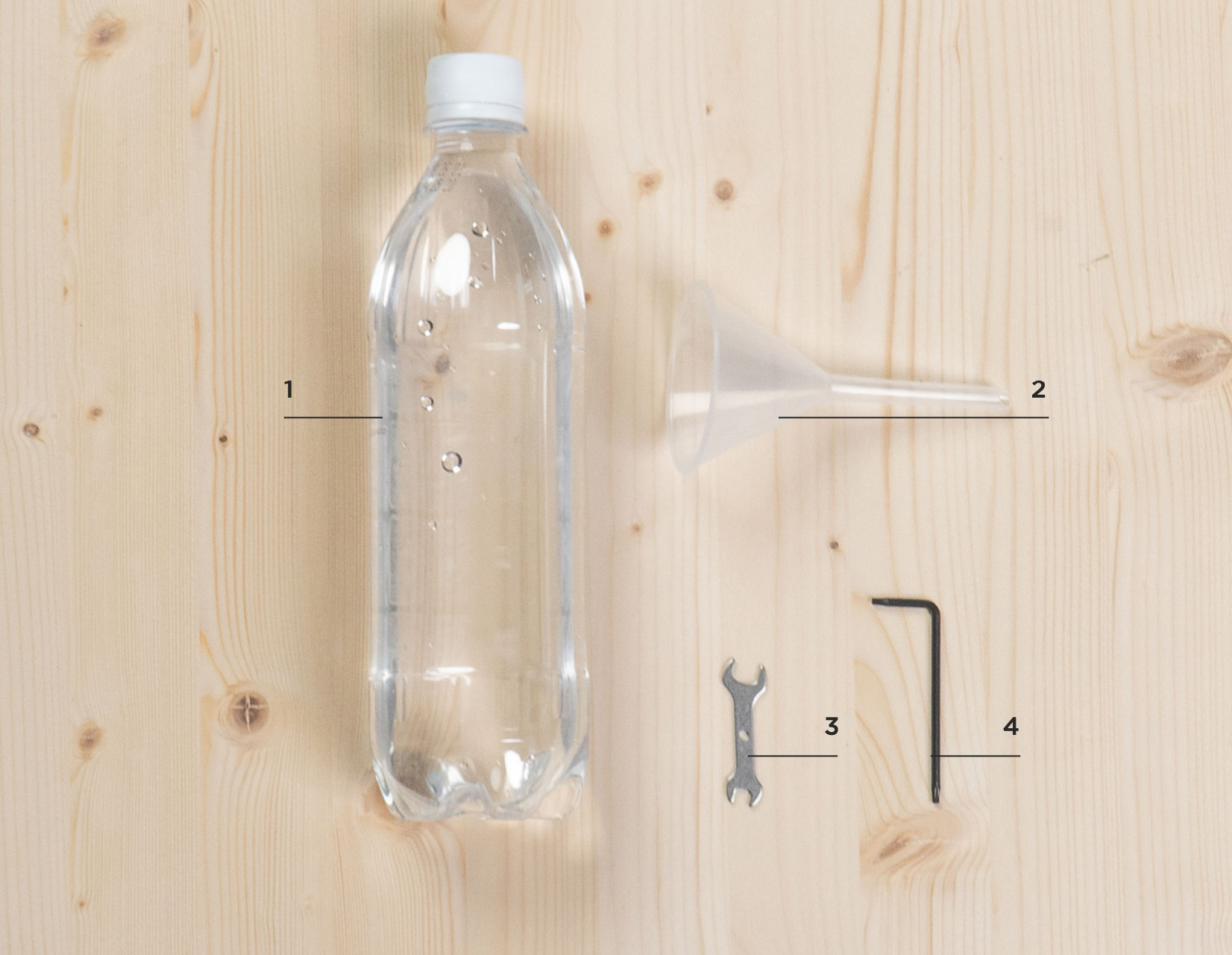 Test Items:
1. Room temperature should not be too high :
a. Keep the right side of the machine heat vent open and should not shade the bottom air intake.
b. Room temperature above 30°C is not suitable for the use of CO2 laser.
2. Water temperature should not be too high : The water temperature should be between 5°C-30°C.
The starting temperature of water is low, or the machine has good heat dissipation ability, the continuous cutting time can be longer.
3. Reduce the high-power operation time :
a. If the water temperature is too high due to continuous cutting, you should wait for the machine to dissipate heat and the water temperature to decrease before clicking "Resume" for operation. This will not affect the engraving result. A suitable pause in cutting will help to improve the heat dissipation and can effectively increase the continuous cutting time.
b. Arrange engraving works between the cutting jobs so that the laser tube can have enough time to dissipate heat.
4. The water pump should be at least 80% full :
More water will make the water temperature rise more slowly. If the water level in the water pump is less than 80% full, water should be added【Maintenance】 Water changing and adding. (p.171) > Press the water hose to discharge the air bubbles inside the laser tube as many as possible. The water-cooling system of this model is a closed water circuit, if the water pump cap is covered, general use will not cause water evaporation, the water level of the water pump drops, if the water level decreases significantly within a week, please contact your reseller.
5. Water cooling fans work normally :
Loosen the 8 screws on the side cover with a Torx screwdriver and move the cover aside > Press the "MAINTENANCE" on the machine screen > Click "Pump". After the water pump is turned on, you can check whether the 3 water cooling fans are working.
Troubleshooting Records :
1. Photo: Flow speed reading (should be greater than 3.0 L/min) ("MACHINE" > "Hardware Settings" > "Test Flow Speed")