Welcome to FLUX AI Background Remover feature! This powerful tool allows you to effortlessly remove backgrounds from images, providing you with a seamless experience. To ensure you make the most of this feature, we have prepared a comprehensive user manual with key points and guidelines for your convenience.
1. AI Credit Allocation:
Upon your first usage of the AI Background Remover, we are delighted to offer you 5 AI Credits as a trial. These credits are automatically added to your FLUX account and can be utilized to remove backgrounds from your images.
2. Credit Consumption:
Each time you click the "Background removal" button, a standard credit consumption of 0.2 AI Credits will be deducted from your FLUX account. It is essential to monitor your credit balance while using the feature. You can charge new AI Credits at FLUX Member Center.
3. Non-Refundable Credits:
Once AI Credits are utilized for background removal, they are non-refundable and cannot be returned to your FLUX account, irrespective of the outcome of the process. We advise you to exercise caution while using your credits.
4. Quality of Background Removal:
It is essential to understand that the quality of the background removal may vary depending on the original image's complexity and clarity. While we have optimized the AI algorithm to deliver exceptional results, we cannot guarantee perfection for every image. As such, the responsibility for the output lies with the user.
How to Use the AI Background Remover:
Access Beam Studio 2.1 beta with your FLUX account logged in.

Ensure you have sufficient AI Credits in your account to perform the background removal.

Upload the image you wish to process.

Click on the "Background removal" button to initiate the background removal process. The system will prompt you if your credit balance is insufficient.


The AI algorithm will analyze the image and promptly remove the background.

Once the process is complete, the modified image will replace the original image.

If you wish a better output, abandon the latest output and try again with the following tips.
Tips for Optimal Results:
Use high-quality images with clear and well-defined subject backgrounds for better outcomes.
The maximum upload image size is 1200*1200 pixels.
Ensure that the subject is distinct from the background to facilitate accurate removal.
In case of complex images, consider using additional adjustment to enhance the background removal process.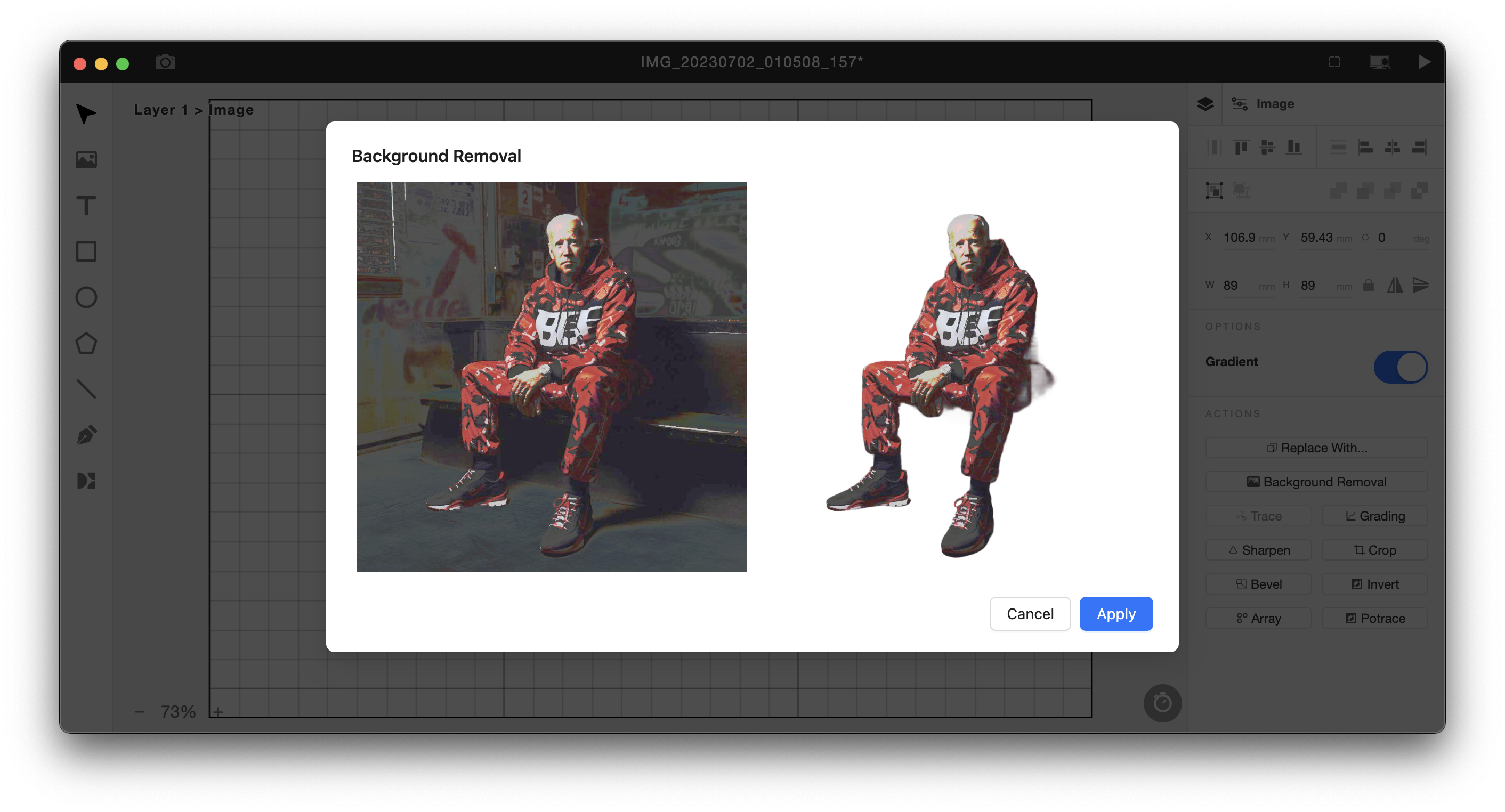 Support and Assistance:
If you encounter any issues or have questions regarding the AI Background Remover feature, our dedicated customer support team is here to assist you. Please don't hesitate to reach out to us through our support channels.
We hope this manual helps you leverage the AI Background Remover feature seamlessly. Enjoy the convenience of removing backgrounds effortlessly and unlock the full potential of your images with our innovative AI technology.
Thank you for being a valued member of our community!