2021/05/25
What's New:
Enhance the "Sharpen" function. High-quality photo engraving and make photos engrave result more detailed.

Added "Know More" icon links in the "Preference" settings.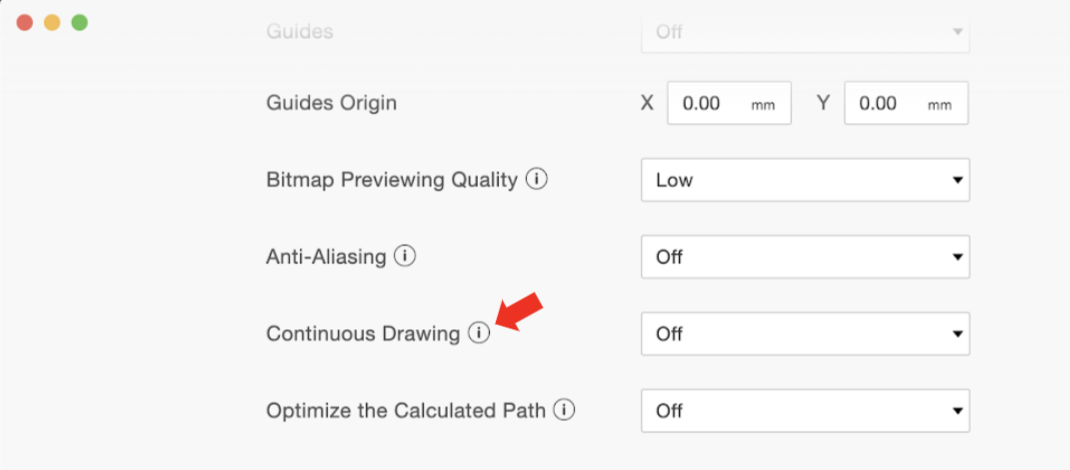 Added "Rate for Beam Studio" function.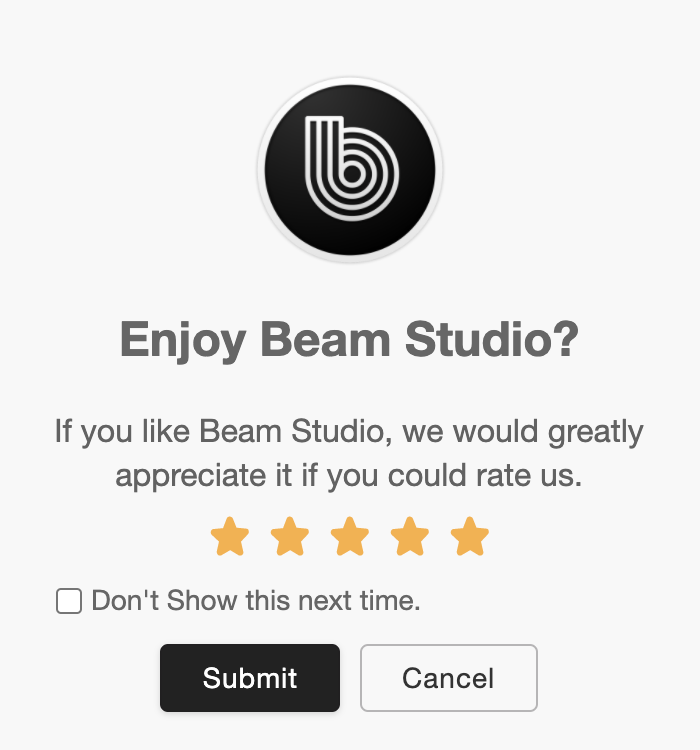 Added "Use Last Calibration Value" for using last time calibration results in Camera Calibration panel.
Added "Duplicate" item in right-click menu.
Added "Using Beam Studio API" item in the Help menu.
Added Focus Probe file in the Menu => File => Examples.
Added "Delete" item in the Menu => Edit.
Added "Anti-Aliasing" in Preference and the Menu=>Display.
Bug Fixes:
Restructuring
Fixed the SVG import size is different if it's exported from Beam Studio.
Increase the speed of import the SVG file.
Increase the speed of the "Disassemble" function.
Fixed the "Guides Origin" wrong user interface display in Preference.
Fixed the problem that software no response if double-clicks on the canvas after added the text box.
Fixed some SVG file import failed.
Fixed the Dashboard problem can not back to the main page after laser work is completed or stopped.
Fixed the meaningless dialog pop-up after reset the Beam Studio.
Fixed the undo function for the gradient function.
Fixed the software abnormal display while dragging the "Sharpen" function's slider.
Fixed the not exist line after using the "Bevel" function.
Fixed the problem that Double-clicks while drawing path. The path will disappear.
Aborting the "Starting Tutorial" when the entrance to the Preference.
Fixed some operations caused the rotate value display failed problem.
Fixed the rule of the "Crop" and "Sharpen" functions that do not support path objects.
Fixed failed to close the software update reminder function.
Fixed the wrong value display after the Disassemble object.
Changed:
Removed the "Text Path Calculation Optimization" function in the Preference settings and enabled it by default.
Changed the object's layer changing rules after grouping.


When the selected objects are in the same layer, it won't change the layer after grouping.
When the selected objects are not in the same layer, it will change the grouping object's layer to the top layer which selected.