Notes : To avoid the possible fire hazard due to the left of small pieces of engraving materials on or beneath the honeybomb table, it is recommended to clean the chassis right after use.
Preparation Items : Self-preparation :
1|Vacuum cleaner or brush,
2|75%~99% alcohol,
3|Paper towel or tissue paper.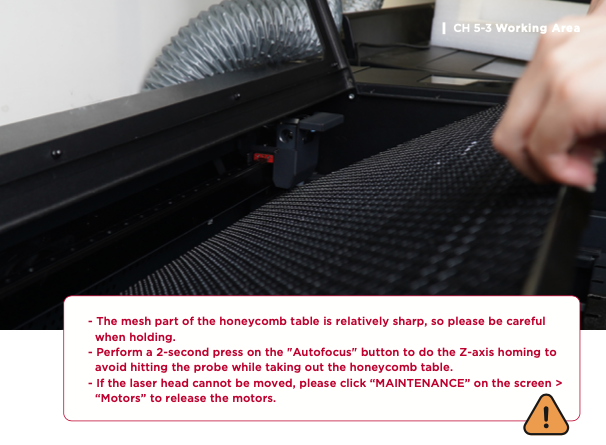 Maintenance Steps:
1. Take the honeycomb table out : Move the laser head to the upper right of the working range > Press on the "Autofocus" button for 2 seconds to do the Z-axis homing > Lift up the honeycomb table handles, hold the two sides of the honeycomb table, and pull it out.
2. Clean the chassis : Use a vacuum cleaner or brush to clean the large residue and dust, or gather them on the drawer, then open the drawer from the outside or push it out from the inside of the chassis for cleaning.
3. Put the honeycomb table back : Place the honeycomb table at a 45-degree angle into the chassis and lay it flat.