The panel contains the machine interface and the components underneath.

Maintenance Steps: After homing successfully, check the status display and switches except for the "Laser Pulse", and the standards are as follows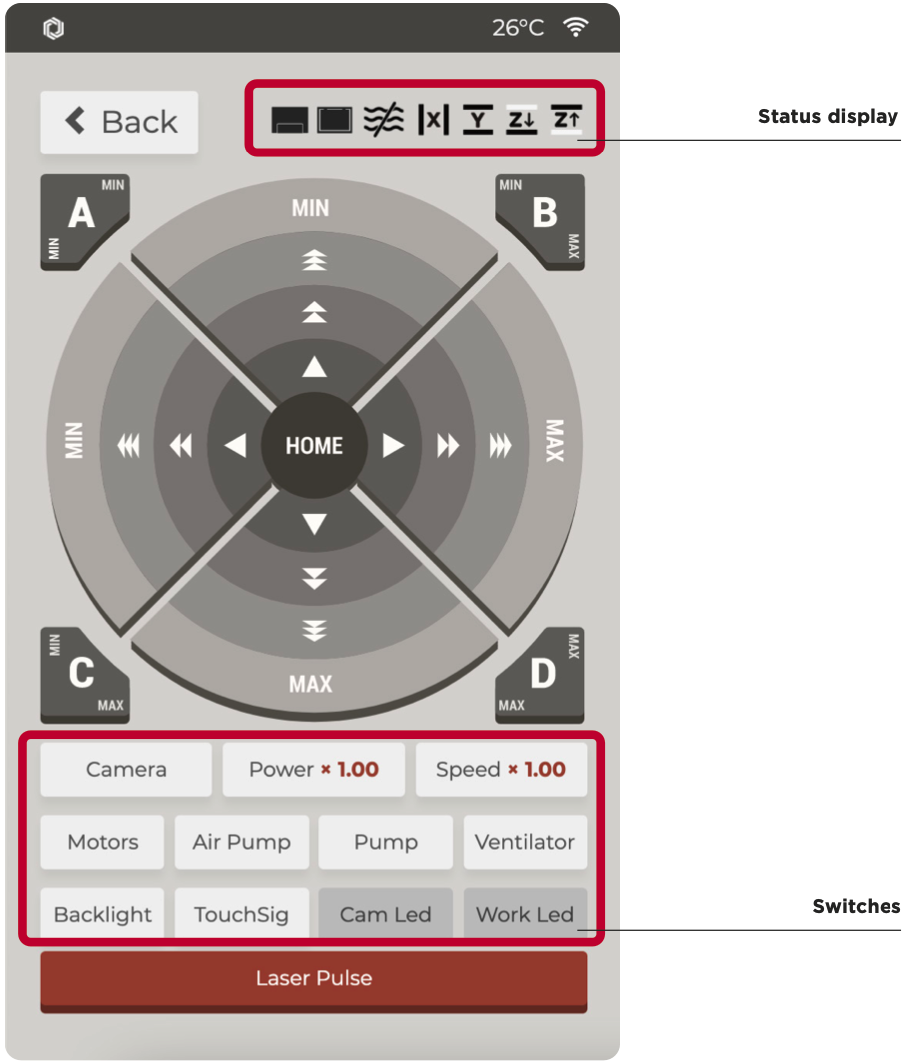 Switches :
- Camera: Check whether the camera view appears on the screen and move the laser head to observe whether the screen keeps changing with the camera movement. (Camera view is updated every 3 seconds)
- Motors: Check whether the laser head can move normally along the X-axis linear rail and Y-axis guiding rods.
- Air Pump:
Check whether air is coming out of the laser outlet with a piece of paper, as shown above.
- Pump: Open the door cover to check whether the blue light of the water pump is on (as shown below) and whether the water pump icon on the screen is

.
- Ventilator: After clicking, there will be a sound of acceleration and rotation, like the sound of aircraft taking off.
- Backlight: The screen will turn black and light up after clicking.
- TouchSig: The screen will be untouchable for 3 seconds after clicking.
- Cam Led: The light next to the camera, check if it can be normally illuminated, as shown below.
- Work Led: At the front side and back side of the chassis, check if the light can be normally illuminated, as shown below.
If there is any abnormality, please go to
【Troubleshooting】 to find the solution.
Maintenance Steps:
If the screen is dirty, spray a small amount of alcohol on a cleaning cloth and wipe the screen lightly.
Preparation Items:
Self-preparation: 1|
75%~99% alcohol, 2|
Cleaning cloth