Description
This article will guide you through the process of performing a camera calibration.
However, please note that this page is only for 10W and 20W Diode Laser Module.


For other modules, please refer to:
- Ador - Printing Module Calibration
- Ador - 2W Infrared Laser Module Calibration (An official page coming soon)


When Camera Calibration is Needed
1. When using the machine for the first time.
2. When the machine has been relocated.
3. When there is a discrepancy between the camera preview and the actual engraving position.

Note:
1. Camera calibration is required for the initial use of the camera preview function.
2. Focus on the engraving material each time you use the machine.
__________
Step 1 - Check the software version
Required Software-
Beam Studio (Software version must be 2.2.10 or above)
__________


Step 2 - Prepare a piece of A4 paper
Required Materials-
A4 white paper (to be prepared by the user)
__________
Step 3 - Connect the machine and place the paper
a. Select the Machine: Choose the name of the machine you wish to use.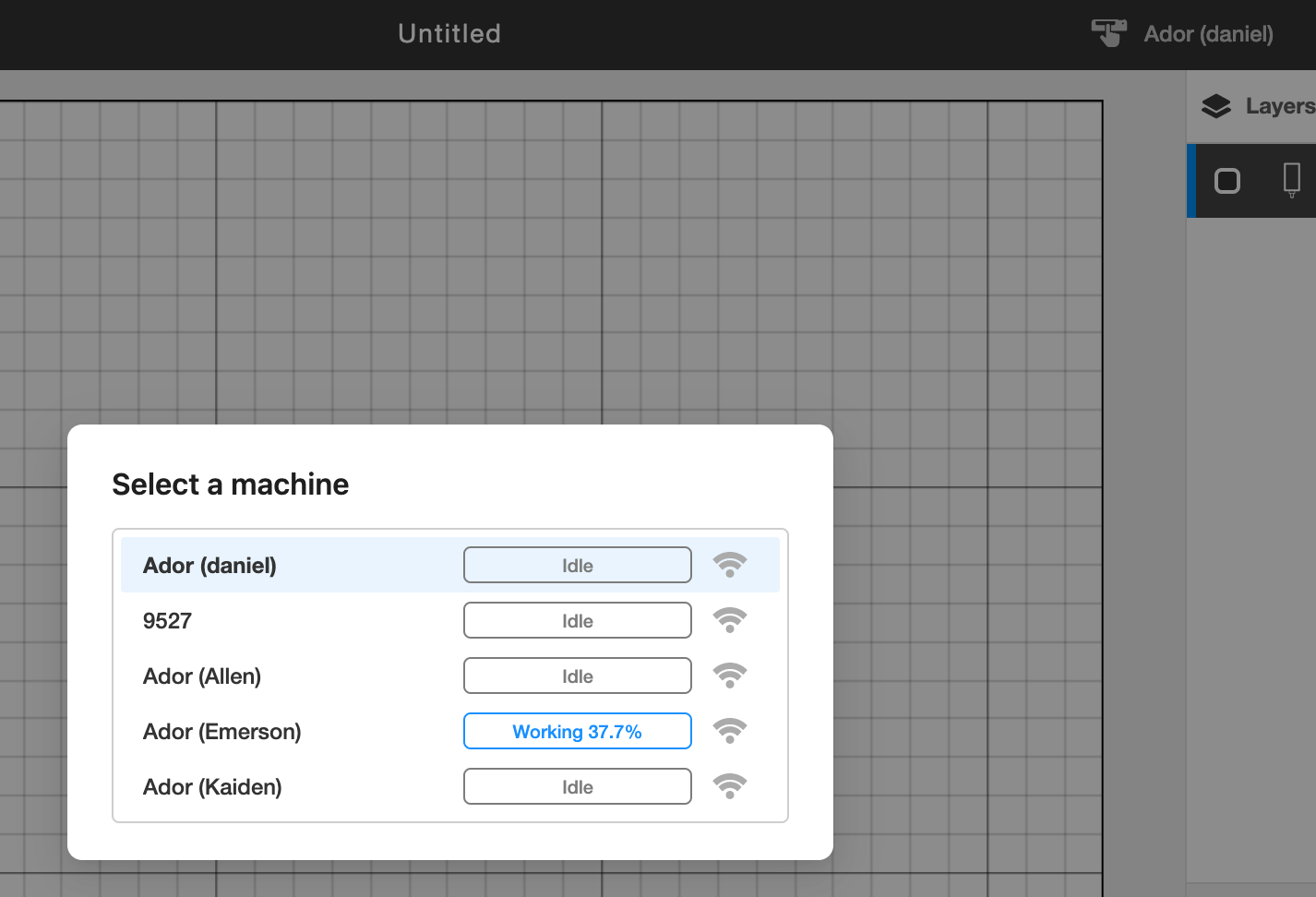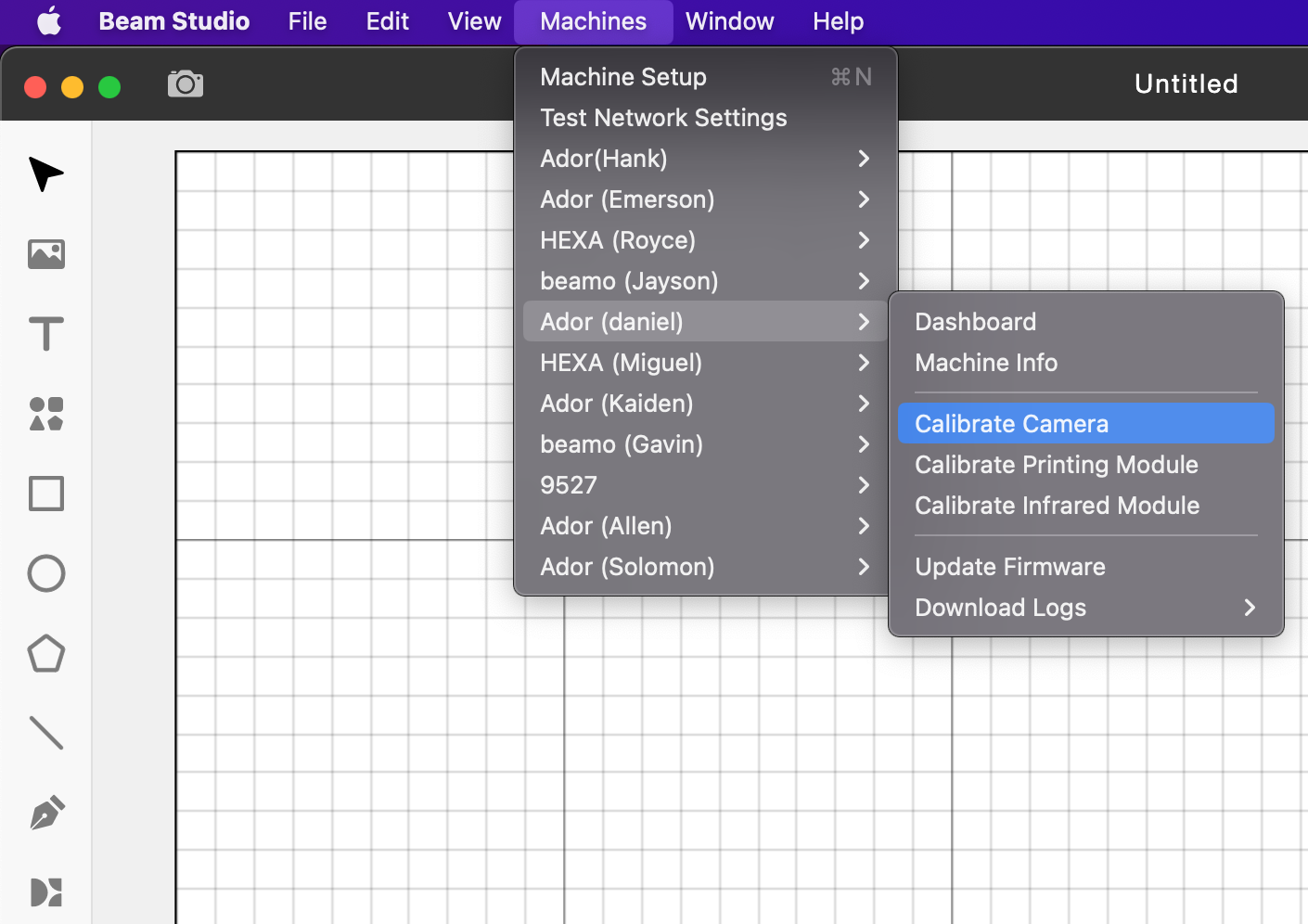 b. Place White Paper: Put a clean A4 white paper in the center of the working area.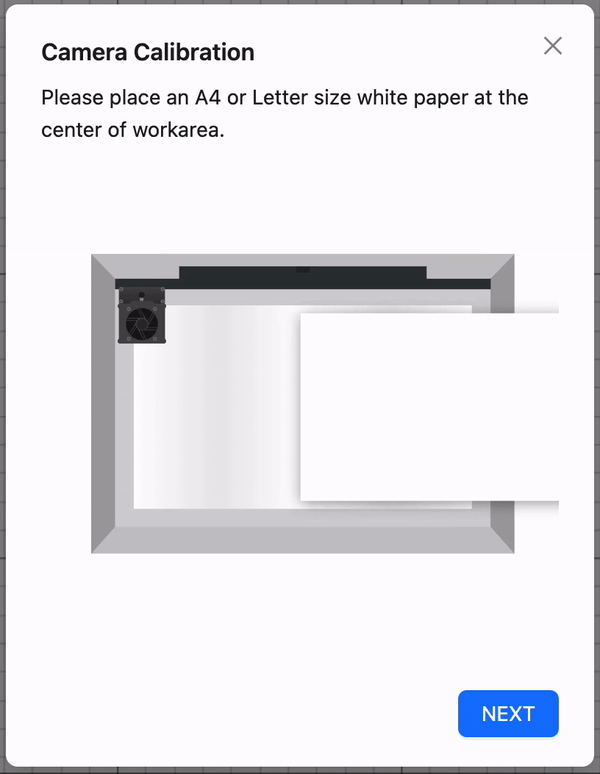 __________


Step 4 - Auto-focus on the paper and close the lid
c. Focusing: Place the material inside the machine and move the laser head above the material.
Then, click the focus button on the left side of the machine twice or long-press the "AF" button on the machine panel until the laser head starts moving.

The focusing will be done when the laser head touches the material and moves upward.
Make sure that the focus distance is correct before each engraving.
(Ador - Focus Distance Adjustment)

There are two ways to perform an auto-focus:
Long-press the "AF" button on the machine panel:
Double-click the focus button on the left side of the machine:
__________
Step 5 - Continue the steps on Beam Studio
d. Draw calibration image: The machine will cut a cross-shaped pattern on the paper.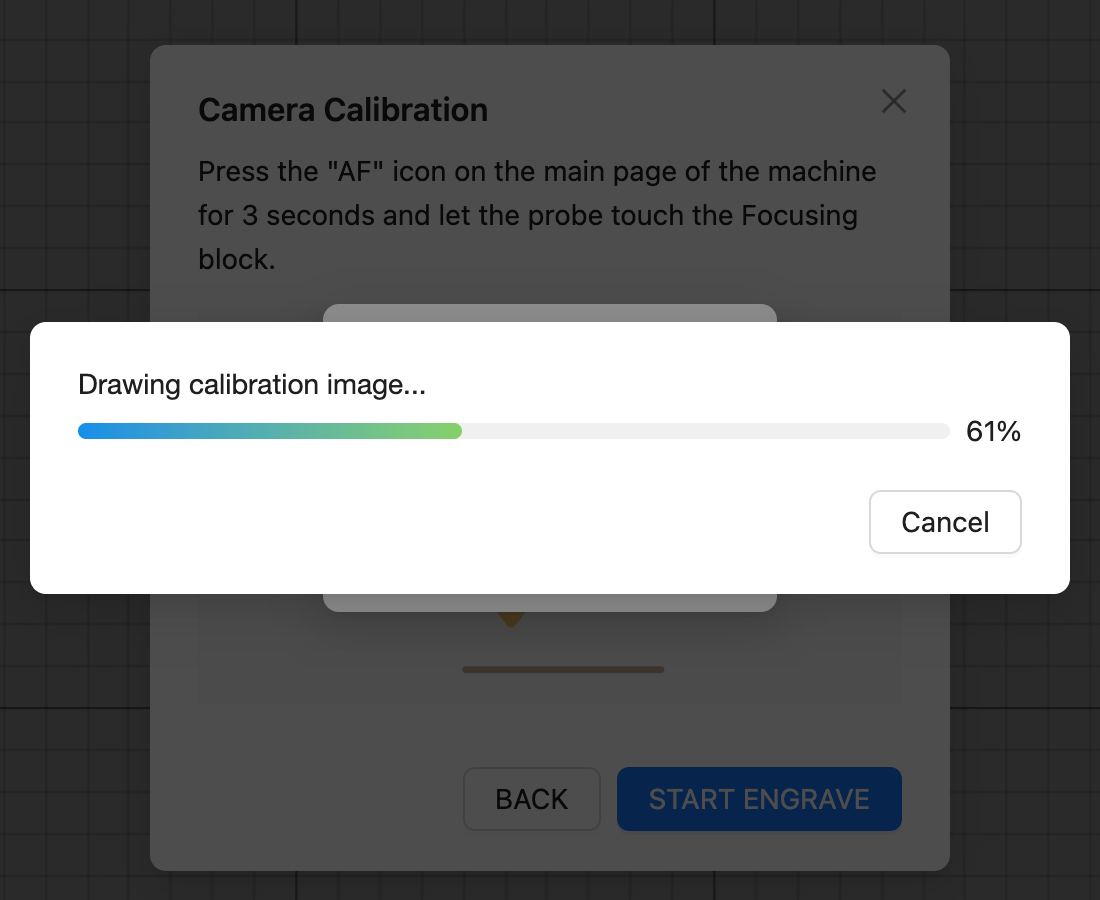 e. Adjust the Red Cross: Adjust horizontal and vertical alignment (using up/down arrows or input values) to ensure the red cross aligns perfectly with the cut cross.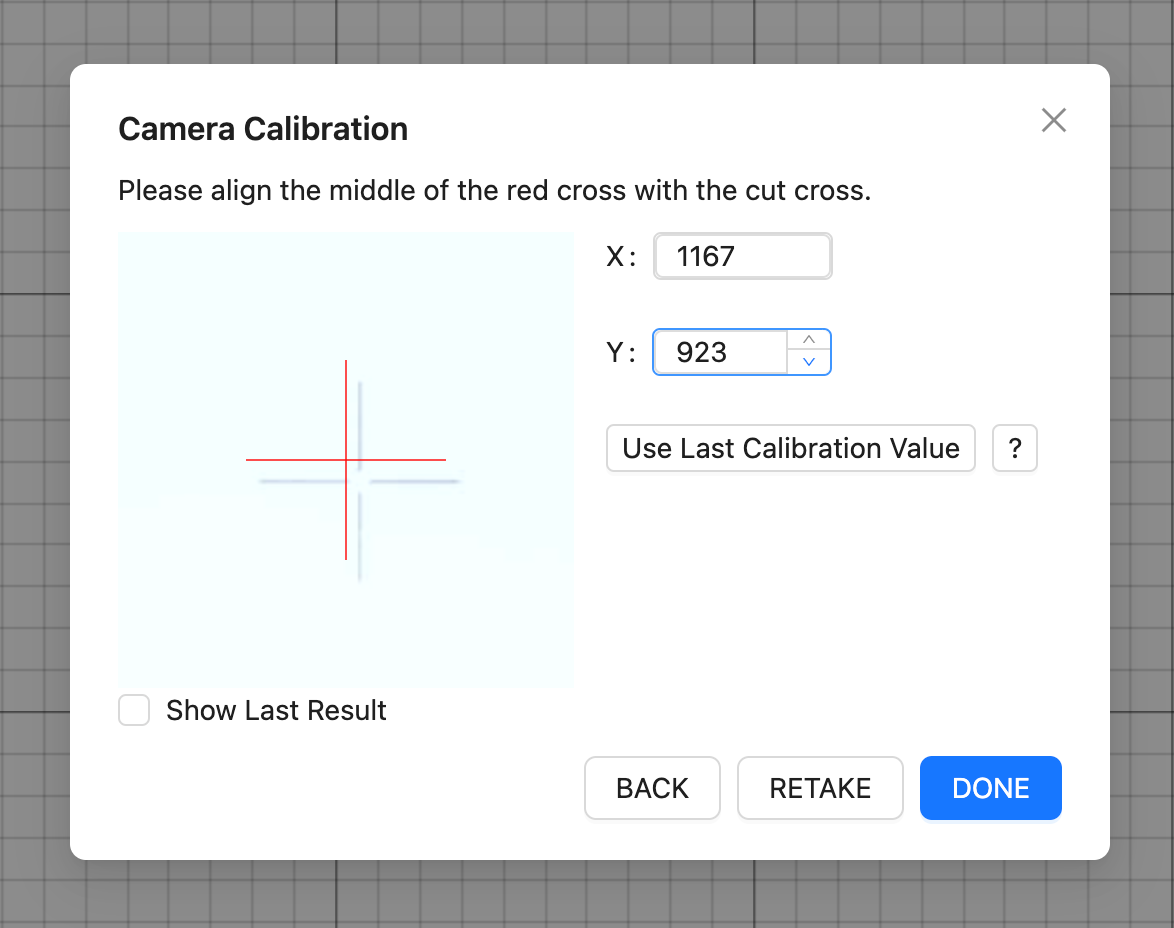 f. As shown in the image below, once the red cross is well-aligned.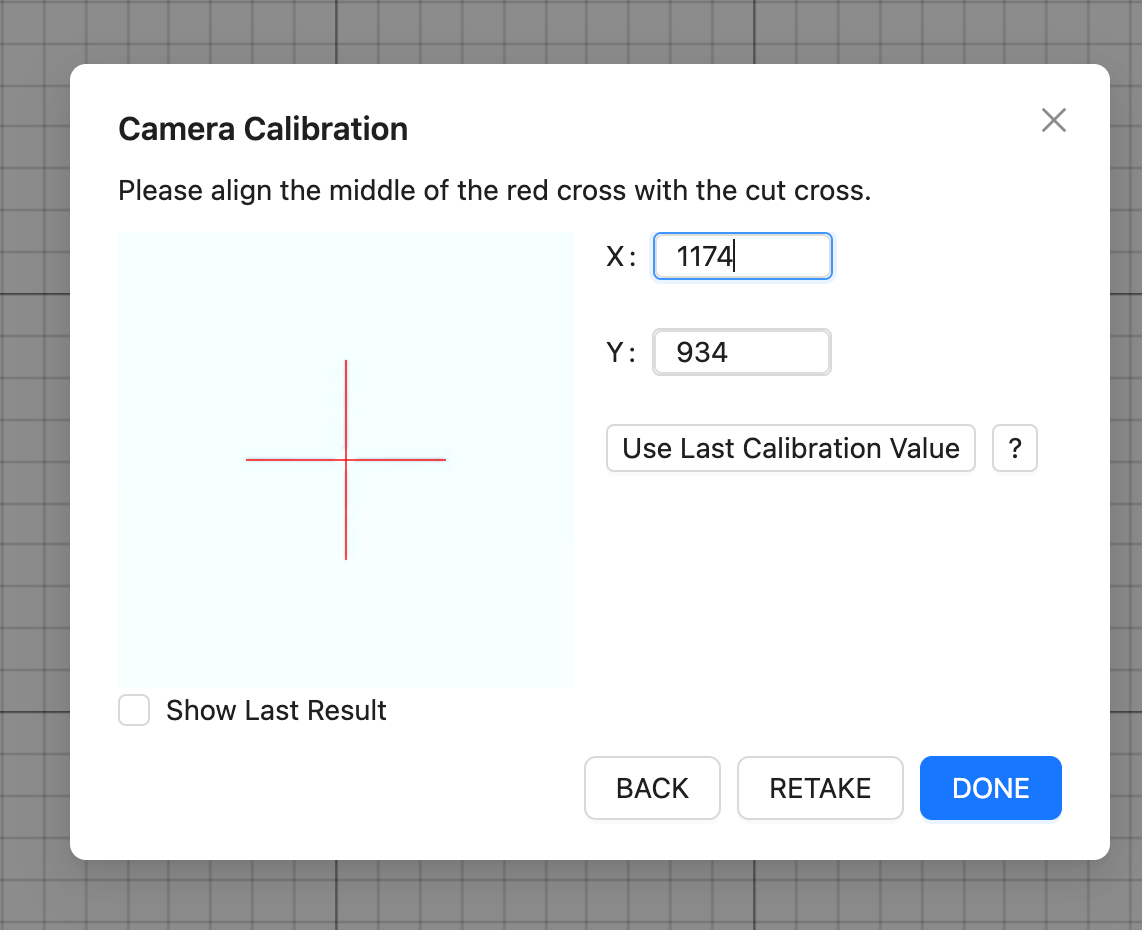 __________


Step 6 - Verify the results
g. Verify Calibration Results:
Draw a square positioned at (X, Y) = (215mm, 150mm) with a width (W) and height (H) of 10mm each. Confirm that the square is aligned with the bottom-right corner of the cut cross.
Once camera calibration is complete, you can begin your first engraving. (If alignment is incorrect, please refocus the paper and recalibrate the camera.)
__________

#END